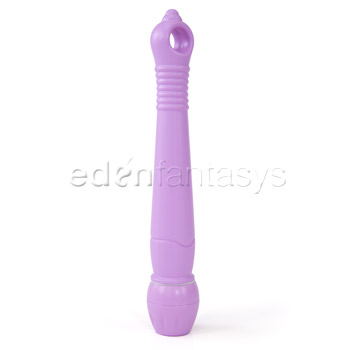 This was my second assignment from Eden. When I first started reviewing there in 2007, you did not get to choose your assignments the way you do now. You edited your product preferences and they would send you an assignment. From there you would accept or decline. Wow, Ef has really expanded from that!
My Review "Dr. Juliet"
I remember that my item didn't arrive for over two weeks and so EF sent me another. The original one finally showed up, so I ended up with two. I gave the other to my then roommate Megan. The biggest appeal of this toy for we was the multi use, but even more so was the fact that it is waterproof. I ended up using it more for indirect clitoral stimulation and nipple play than anything else because of the loop at the top. I only got rid of this toy a few months ago. I had stopped using it long before that, but at least it still worked. It's a great toy for those who don't like traditional toys.